In collaboration with the Press Association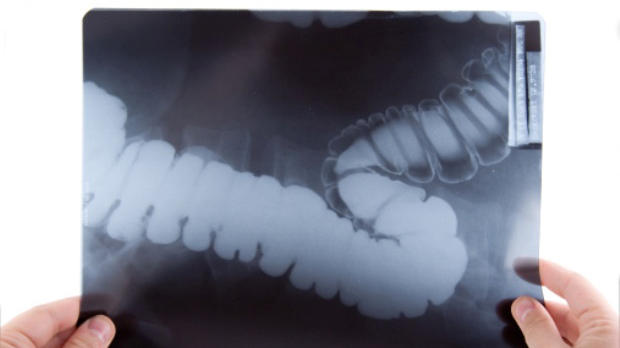 Cancer Research UK state that US scientists have identified(link is external) a molecule whose levels in tumour tissue appear to be linked with poorer survival among bowel cancer patients.
"It's early days, but the findings could help doctors decide which drugs a patient should receive in the future" – Dr Kevin Myant, Cancer Research UK
Measuring levels of the protein – called CSN6 – in patients' samples could one day be used to help decide on the best course of treatment.
And the molecule itself could now become the focus of further research as a potential treatment target, according to the researchers.
But UK experts stressed that there is still a lot to learn about the molecule before the knowledge could be put to use.
In findings published in the journal Cancer Cell(link is external), the researchers, based at the University of Texas MD Anderson Cancer Center in the US, showed that CSN6 levels were often raised in bowel tumour samples.
When they compared the levels of CSN6 in patients' tumours with how long they survived without their disease coming back (known as 'recurrence-free' survival), the researchers found that patients with higher levels of CSN6 tended to have shorter recurrence-free survival.
Further studies revealed how the raised levels of CSN6 might be linked to worse outcomes: excessive amounts of CSN6 appeared to have the knock-on effect of stabilising another important protein called beta-catenin.
Beta-catenin is known to play a critical role in fuelling bowel cancer development, suggesting that CSN6 could be a promising drug target for further research.
"This important study identifies a molecule in bowel cancer tissue – called CSN6 – that may predict poorer survival among people with the disease," said Dr Kevin Myant, a Cancer Research UK expert in bowel cancer development from the Edinburgh Cancer Research Centre.
According to Myant, the findings are important as they also connect together crucial cellular signals linked to bowel cancer.
"[This research] shows an important connection between two sets of molecular signals inside cells that play a crucial role in how the disease develops, which could have implications for how it's treated," he said.
"It's early days, but the findings could help doctors decide which drugs a patient should receive in the future. And the molecule the researchers have identified could also be a promising drug target for certain types of bowel cancer. Further research will be needed to better understand this potential, and work out if it would be possible to target the CSN6 molecule," he added.
"The molecular alterations in bowel cancer have been studied extensively," said Professor Mong-Hong Lee, an author on the study.
"However, a more detailed picture of the pathways deregulated in this cancer has yet to emerge. Defining those molecular alterations can help guide treatment and improve clinical care."